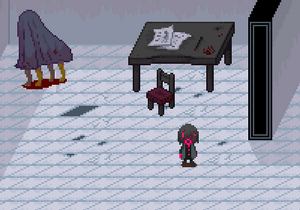 A boy that appears to work and live in The Marble Hall . He had two different colored eyes. One is grey and one is black. He has been speculated to be either an artist or a taxidermist depending on what you think is under the sheet that you recieve the Centaur effect from. He attempts to keep away from Usotsuki when she weilds the Nail Bat. It has been speculated that Pholus has a sister named Trisha. (The name of the file for her room is Trishroom, some refer to Pholus as Trish because of this)
An event involving him can be triggered by hiting Trisha with the nail bat and then going to his room.
But he is also identified as Trish as well.