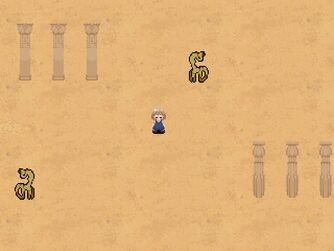 The Desert is one of the four initial worlds accessible from the Nexus; the map is primarily a buff-colored sandscape with smatterings of Roman columns in a similar shade and piles of dust in various reds, yellows, and oranges. The music is a bongo beat accompanying what appears to be a sitar.
Population
Edit
Around the area wander creatures resembling giraffes (pictured right) with stunted necks notably always turned so that they look behind them. It appears as though their fourth leg or tail is curved and attached, at the bottom, to the third one. How these obtain sustenence, as the area has no given bodies of water, is unknown, and may be a manifestation of the dreamlike elements of Usotsuki's world.
Also seen is a floating creature made up of a red orb with wispy appendages. It's realm is cerca one particularly symmetrical set of columns arranged in an open triangle, perhaps suggesting its possible significance.
Notable Features
Edit
The floating purple piece of fabric amongst the heaps of powder found here provides Usotuski with the Scarf Effect.
Connections
Edit
Crimson Path (via the small, brown building adorned with red arabesque designs)