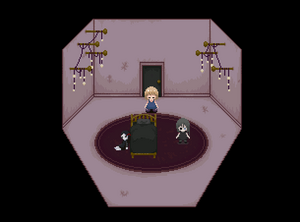 Also known as Trish or Trishroom. The little girl that appears to live in The Marble Hall . It is spectualated that she is Pholus ' sister seen she shares his heterocromaic traits. Her eyes are blue and black.
(Trishroom is the name of the file that contains her room, sometimes her brother is refered to by this name as well.)
She stays in her rooms where she is sometimes seen playing with a very small ball.
The Horns effect is suppose to effect her and if you kill her with the Nail bat she does not scream but remains sunken to the floor as a corpse.
This will supposively trigger an event where Pholus' face turns red and he will chase you through The Marble Hall that is then filled with figures that have there faces turned from you.
If Pholus catches you, Usotsuki is transported to a dead end area that resembles the boxes that you can view by interacting with the holes in the walls.